Welcome to The Third Marines
Register now to gain access to all of our features. Once registered and logged in, you will be able to create topics, post replies to existing threads, give reputation to your fellow members, get your own private messenger, post status updates, manage your profile and so much more. This message will be removed once you have signed in.
Login to Account
Create an Account
Posted By: FSGT. A. Switz @ 15 February 2017 - 06:31 PM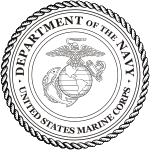 MARINE CORPS ORDER 1050.1A
Date Signed: 2/15/2017
MARADMINS Effective Immediately
R Wednesday FEBRUARY 15
Subj: COLLABORATION ORDERS WITH THE FIFTH RANGER BATTALION, TIER 3 RELATIONS

1. Background

A. All Active Duty personnel and Recruits are to begin populating the server of the 5th Ranger Battalion in efforts of which have been established in response to moving to Tier 3 collaboration status and efforts.


2. Cancellation
A. This order is to carry through until both organizations of the 5th Ranger Battalion and 3rd Marine Battalion find sufficient that the goal to increase 5th RB server activity and growth has been established.

3. Mission
A. Every Active Duty Marine and Recruit is instructed to only play on the 5th Ranger Battalion public server if the following conditions are met:
a.) There are less than 6 players on it's server
​ b.) After 6 players is reached, 3rd Marine personnel are allowed to play on other servers
c.) No direct recruiting while on their server as of yet. More information will be provided and addressed


End
Comments: 0 :: View Comments
Toggle %s Our first Realism in Days of War!
Posted By: FSGT. A. Switz @ 02 February 2017 - 09:14 PM
We have our first realism in Days of War planned for Sunday, February 5th and 1300 EST
All Active Duty Marines and Recruits may participate
(Points awarded to cutting scores for participation)
Our first Realsim Game Mode in Days of War will be a mixed realism with the our Tier 3 collaborators the 5th Ranger Battalion and the 2nd Calvary Regiment. We will start on Carentan for 5 Rounds and then finish on Kaiserburg for another 5 rounds. Weapon loadouts will be selected prior to each engagement.
Teams will be mixed and also decided before each match. The goal of the event is to allow each unit's members a chance to meet one another and form friendships, as well as see how the classic realism mode in Days of War will be like.
Rct. P. Rock [3rd MAR] will be broadcasting the event over Twitch on his Channel to showcase what the realism game mode is to anyone interested.
In addition, FSgt. A. Switz [3rd MAR] will also be streaming (lesser quality) on his channel.
Leaders will be from leadership ranks among the three units. However, small unit and squad leader functions may be filled by junior enlisted.
Comments: 6 :: View Comments
Posted By: FSGT. A. Switz @ 30 January 2017 - 05:08 PM
JANUARY RECAP
2017-01-30
New Rewards
Marine Corps Good Conduct Medal, GCM
Private First Class C. Ferreira
First Sergeant A. Switz
Letter of Commendation, LOC
Recruit J. Johnson
Comments: 0 :: View Comments
Toggle %s 3rd Marine Servers


The 3rd Marine Regiment hosts and manages a wide range of game servers and voice services. To see a list, click here.